BizFilings and Northwest are two notable companies that specialize in LLC formation services for entrepreneurs and businesses. Our BizFilings vs Northwest comparison reviews both companies by comparing pricing, features, and drawing out differences and similarities to arrive at a verdict as to which is the most suitable for you and your business.
Quick Summary
Since both companies are very professional and have good customer service, the decision in the end, may ultimately, boil down to pricing, and Northwest gets the nod here with its comparatively cheaper prices in all package levels.
BizFilings has helped over 500,000 groups and individuals start their businesses since 1996. To say that the company is established and highly reputable would be understating it. Their endurance and longetivity, no doubt, has a lot to do with the quality of services and efficiency they offer.
Meanwhile Northwest is another quite reputable LLC formation company, established during the end of the last century. It has grown immensely since then, and has also become one of the most notable companies in the industry.
Today we're going to be analysing these two companies to see what makes them special, what features make them stand out from competitors and from each other, and whether they are indeed worthy of your time – or not. And, of course, which deserves it more.
Pricing
BizFilings' pricing packages are specialized based on the exact business type, and state of registration. For a normal LLC formation, there is a basic package of $99 plus state fee, a standard package of $229, and a complete package of $424.
Northwest follows the same conventional pricing mechanism that is the three-tier pricing. Its basic package is offered at $79 + state fee, its deluxe package at $179 + state fee, capped by a premium package at $199 + state fee.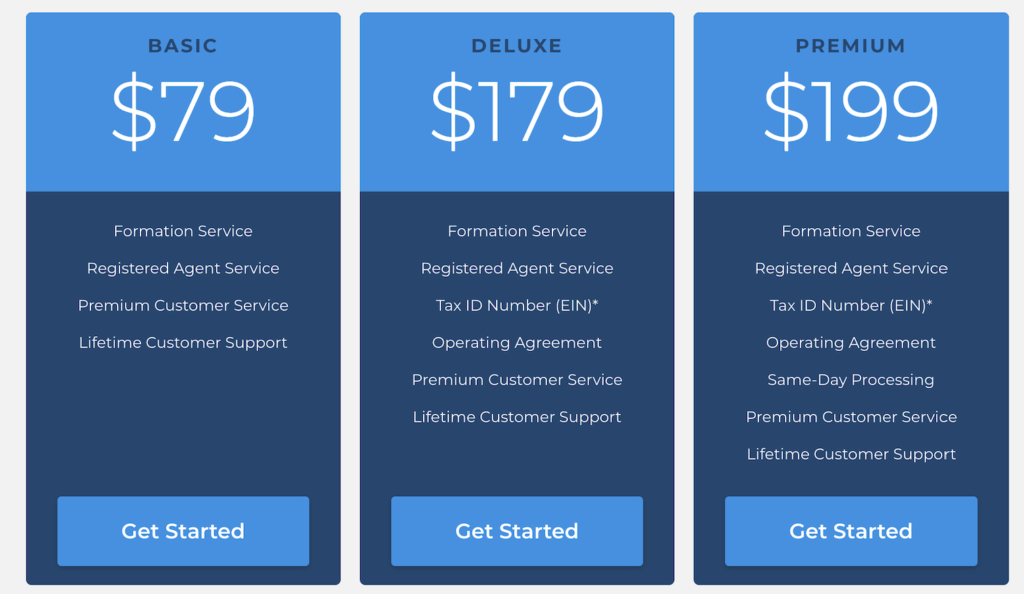 Perhaps the highlight worth mentioning from the comparison of both companies is the cheapness of Northwest's basic package relative to BizFilings', and most importantly, the amazing affordability of its premium package – which is without a doubt one of the cheapest in the industry.
BizFilings vs Northwest – Functional Differences
1. Turnaround Time (Speed) – Northwest's turnaround time, it says, greatly depends not just on their filing time, but on the state – which is true for most companies. BizFilings offer an expedited solution of faster, guaranteed fast delivery, but at an extra $60 cost.
2. Registered Agent Service – BizFilings offers Registered Agent Service in all its packages, including at the basic level, but this is done for only six months. Northwest, meanwhile, offers a full year of Registered Agent Service in its basic package.
3. Ease of Use – While both sites offer platforms and systems that are extremely functional and easy to use, BizFilings gets a slight edge in this regard from us.
4. Corporate Guides – Northwest's "Corporate Guides" features is a particularly pleasant one. It takes customer care to the next level by assigning an expert guide to users, available for email and call.
So far as we know BizFilings does not have this feature.
Similarities
1. Experience – Northwest was established in 1998, a really long time for an LLC formation company. They're definitely one of the most experienced out there, and it shows in their modes of operation. BizFilings, of course, is also a highly experienced company, established two years earlier in 1996. It isn't hard to see how similar both companies are in this regard, and how much impact their age and experience has on their functioning.
2. Security – Both BizFilings and Northwest have shown that they place major care on ensuring security and customer privacy. This is, no doubt, highly valuable in a time when every major company seems to be on a hunt to exploit customer data for their own gains.
3. Customer Service – Both companies also have a high rating when it comes to customer care quality. They offer a fast response time, and provide meaningful solutions.
Customer Reviews Comparison
While not BBB accredited, Northwest has a solid A+ rating on the platform. The score is based on 29 customer reviews, virtually all of which were highly encouraging. BizFilings, too, has an A+ rating, albeit with fewer number of reviews.
Here are a few excerpts for each company:
BizFilings:
I've registered multiple businesses with BizFilings over the years and have experienced nothing but success with them. They're quickly available to help answer any questions I have along the way. Reading the other review, it's clear the individual doesn't understand that BizFilings offers a service to streamline registration and compliance activities. Of course, this is a service you pay for and personally, I'd rather let the experts do it so I may focus on the core of my business. Keep up the great work. -EB from BBB
Northwest:
What a refreshing service. In a world of automation and robot call trees, Northwest is a breath of fresh air. It's never been so easy for me to register an LLC (this was my 4th) and I can't imagine EVER Using another service now that I've found them. Real People! That's the best part of NWRA…real people. And their customer service is over the top amazing. I rarely gush about service providers, but this time I found a company who truly deserves it and walks the talk.
Verdict
It is clear at this point that both BizFilings and Northwest offer their own unique feature that make them stand out from themselves and the rest of the pack. Northwest has its corporate guide feature, BizFilings has its free incorporation wizard and other useful tools.
They both have similarities too, among which are their ease of use, amazing customer service, experience, and so much more.
The decision in the end, may ultimately, boil down to pricing, and its obvious Northwest gets the nod here with its comparatively cheaper prices in all package levels.
Check out BizFilings detailed review
Check out Northwest detailed review
In case you're still unsure as to what LLC formation company to go with, feel free to check out our other in-depth reviews and comparisons: