If you want to form a new company in Delaware, the first thing you need to do is perform a Delaware business entity search using the Delaware government website.
This search is very helpful because it means you can check the availability of your business name before you try to register it. If you decide to register your business entity name using the tool, you can then use it later to access your information and research the business details of any company that is held on file with the Secretary of State.
You can search the Divisions of Corporations database by either the name of file number and below, we'll give you a step-by-step guide on how to check if your business entity name is available to register in Delaware.
Do you need your LLC forming quickly? Form your new business using ZenBusiness instead. They will do your Delaware business entity search, file all the paperwork, and make sure it's 100% accurate!
Save yourself HOURS of painful forms and get your LLC formed quickly and easily.
Delaware Business Entity Search by Name
Step 1
To start with, visit the search page. Type the name you want to use for your business entity and then click search.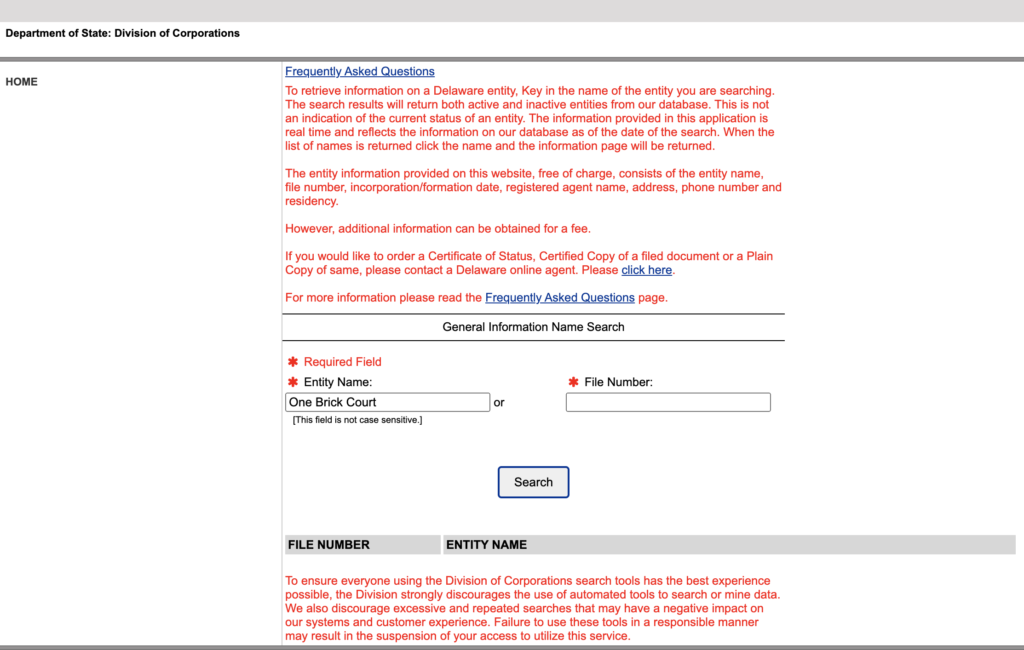 If there are no results, you'll see a message that says "No Records Found".
Step 2
If there are records, the search will display a list of results. You can click on any of these results to find details on the business entity to make sure your chosen name is not taken.
Step 3
When on an individual entity page you can review all of the information made public by the Delaware Secretary of State. If you need to, additional information can be requested but this comes at a cost of $10 for an entity status, or $20 for filing history, current franchise tax assessment and more.
Step 4
At this point, you should have been able to figure out whether or not your chosen business entity name is available to register and you can proceed with your LLC or corporation formation.
Delaware Business Entity Search by File Number
Step 1
If you have a File Number for an existing Delaware business entity, you can go back to the search page and enter the number, then click Search.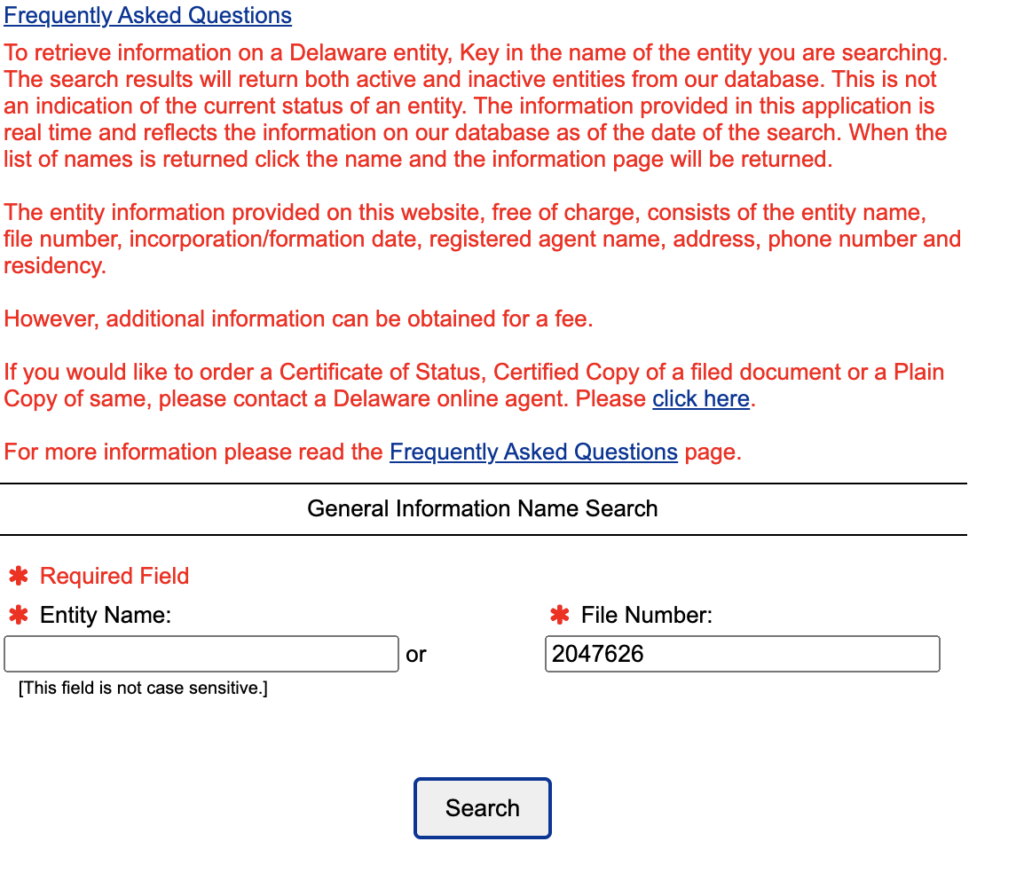 Step 2
Since we're searching for a specific File Number here, there should only be one result in the list for you to check from. Like we did with the name search, you can click this entity name to bring up the details of the corporation.
Step 3
After performing these searches for your chosen entity name(s) you hopefully have now found an entity name that is not yet taken and you can use this name to form your LLC company.
Delaware Business Entity Search Recap
If you've made it this far you've probably figured out exactly how to check if your chosen business entity name is available to register in the state of Delaware.
It's a pretty straightforward process that shouldn't take you more than a few minutes to check, but it's important to make sure you don't accidentally choose a name that is taken, or is too similar to another company and might cause confusion between the two entity names.
At this point, you can proceed with your LLC or company formation either by yourself, if you have the time to manage and deal with all of the paperwork and forms, or by using an affordable and super quick service like ZenBusiness to do all of the hard work for you.
Hopefully this guide has given you a point in the right direction and you can continue on to form your new Delaware company.