BizFilings and Northwest are two reputable companies that specialize in LLC formation services for entrepreneurs and businesses. Our BizFilings vs CorpNet comparison reviews both companies by comparing pricing, features, and drawing out differences and similarities to arrive at a verdict as to which is the most suitable for you and your business.
Quick Summary
BizFilings sets itself apart with its numerous helpful tools and resources, while CorpNet distinguishes itself through judicious customer care, and fast turnaround speed.
BizFilings has been helping groups and individuals start their businesses since 1996. There are more than 500,000 thousand businesses in the world that have employed BizFilings' services. The fact that the company has lasted this long also has a lot to do with its expertise and customer dedication.
CorpNet is also a company with a lot of experience under its bag. In fact, it was established in 1997, just a year after BizFilings. Both companies have come a long way from their humble early beginnings, and continue to wax stronger in the industry.
Making the choice between them is obviously a really hard task, seeing as both have numerous similarities with only slight differences. The decision, at the end of the day, may come down to only fine distinctions, some of which we're going to be taking a look at below.
Pricing
BizFilings' pricing packages are specialized based on business type, and the state in which the business would be registered. For basic LLC companies, the pricing is divided into three packages. There is a basic package of $99 plus state fee, a standard package of $229, and a complete package of $424.
CorpNet's pricing packages also include a three level pricing system. The first level is the Basic package, valued at $108 along with state fee. The second is a Deluxe package, valued at $228 along with state fee, while the last level is the complete package, valued at $278 and state fee.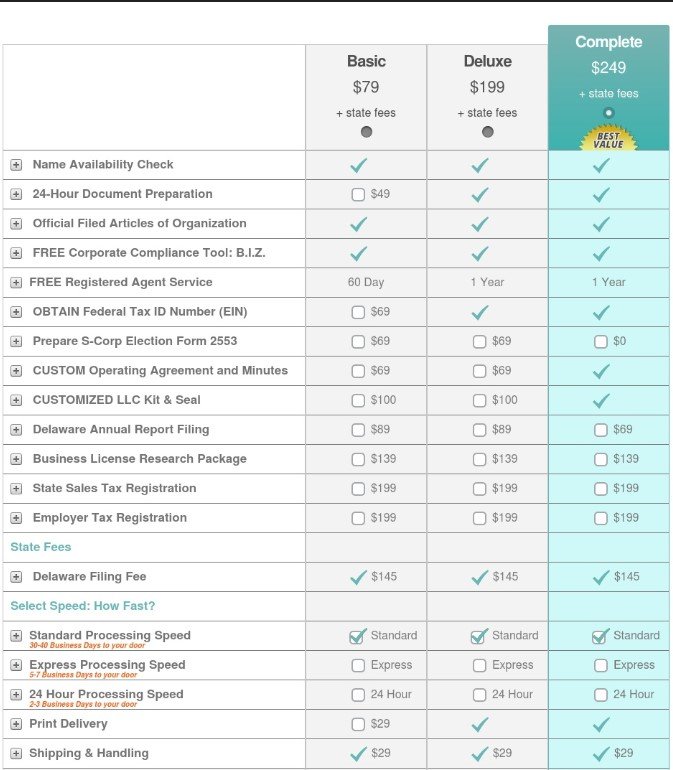 The takeaway from BizFilings and CorpNet's pricing comparison is, without a doubt, the fact that BizFilings offer a cheaper basic package ($99 vs $108), and CorpNet offers a significantly cheaper premium package ($278 vs $424.)
BizFilings vs CorpNet – Functional Differences
1. Turnaround Time (Speed) – BizFilings offer a turnaround time that is in line with the industry average. It also offers expedited filing for its premium members. CorpNet also offers expedited filing for premium subscribers, which increases the turnaround time from nine days to twenty four hours, faster than BizFilings'.
2. Customer Service – Both these companies pride themselves on their functional customer service departments. CorpNet takes a slight edge, however, thanks to its multi-lingual support and extreme professionalism.
3. Registered Agent Service – CorpNet offers a full year Registered Agent Service only for its premium members. Other lower package levels also come with a sixty-day free trial. BizFilings offers a six-month guaranteed Registered Agent Service for all its customers, from basic to premium.
4. Help Resources – Both companies offer helpful resources on their websites, but BizFilings takes this to the next level by offering numerous helpful tools such as calculators and a free Incorporation wizard tool that predicts the suitable business type for users based on their selected inputs.
Similarities
1. Experience – BizFilings was established in the year 1996 while CorpNet was established in the year 1997. No doubt both these companies have a lot of experience between them, and a year is definitely not enough to give any company a tangible edge over the other. So in this regard, we're calling a tie.
2. Ease of Use – Both companies offer great platforms and interfaces that are extremely convenient, highly detailed without being bloated, and of course, extremely easy to use.
Customer Reviews Comparison
On the review aggregator website, TrustPilot, CorpNet holds an impressive 4.9 out of 5 stars review, from 401 verified users. BizFilings has an A+ rating on Better Business Bureau, but this is the result of only three verified customer reviews.
Excerpts from both company's review pages are highlighted below:
BizFilings:
I've registered multiple businesses with BizFilings over the years and have experienced nothing but success with them. They're quickly available to help answer any questions I have along the way. Reading the other review, it's clear the individual doesn't understand that BizFilings offers a service to streamline registration and compliance activities. Of course, this is a service you pay for and personally, I'd rather let the experts do it so I may focus on the core of my business. Keep up the great work. -EB from BBB
CorpNet:
Impeccable service the Max!
Max,
We're extremely satisfied with your hard work and dedication to the point that we want you to personally handle our account! You relentlessly supervised the research required to get us back on track. From the beginning to end you kept the pace and hold every step of the way. Because of your expertise, professionalism, and commitment to our business success, we're able to walk into the new year focused on our goals. We are so appreciative of your efforts and dedication to our cause. Thank you again for your passion and for all that you do!
Verdict
BizFilings and CorpNet are two great companies with a combined forty-seven years of experience between them. They both have amazing customer service, comprehensive platforms, and great features.
BizFilings sets itself apart with its numerous helpful tools and resources, while CorpNet distinguishes itself through judicious customer care, and fast turnaround speed.
Check out BizFilings detailed review
Check out CorpNet detailed review
In case you're still unsure as to what LLC formation company to go with, feel free to check out our other in-depth reviews and comparisons: